A brilliant thought hit me on the weekend: blog about other Cynthia's that make and/or design jewelry. Not a hard thing to find really, looks like there are a lot of us. It will be a rather fun adventure meandering around the web seeing what other Cynthia's do.
The first hit this morning yielded "Cynthia Gale", a Manhattan-based jewelry designer, who has designed a line of sterling silver work for the New-York Historical Society.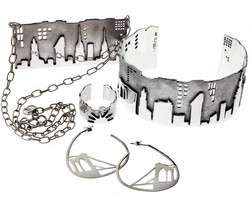 To quote
the press release: "

Manhattan-based sterling silver jewelry designer, Cynthia Gale, is creating a buzz with her new Signature Collection, The City That Never Sleeps. The result of a collaboration with the New-York Historical Society, the jewelry is an aesthetic tribute to the New-York Historical Society's Irving Browning collection, which consists of 1,885 gelatin silver photographic prints and ephemera relating to his career as a photographer and cinematographer."


Here is Cynthia Gale's site:
Geo Art
So until next Tuesday, go browse the
web.